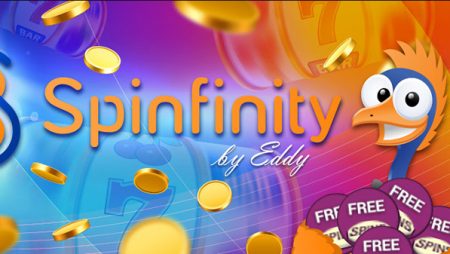 Something exciting is brewing at EmuCasino, as its ever so energetic mascot Eddy the emu unleashes the next idea from his wild mind that has the potential to revolutionize your gaming experience. Think we're exaggerating? Think again. A free spins love affair may not be too far off in your future. This new feature called Spinfinity by Eddy and it is the perfect way to showcase to avid slot enthusiasts the very best pokie games currently on the market. Brace yourself as Eddy joyously showers you with free spins all week long.
All of you slot lovers out there are about to get an innovative treat – the awesomeness of which you are unlikely to encounter again in the world of gaming. EmuCasino has always been known to crank out nothing short of the best attractions that the world of pokie games has to offer. Thus, over the years it has become a sort of hub where slot aficionados can enjoy themselves to the fullest. With the introduction of Spinfinity by Eddy, you can now get a batch of fresh new games to play and try out each week, along with daily Free Spins. Partake in this highly anticipated feature and you can rest assured that the gaming excitement never sleeps!
Nonstop cutting edge slot games
The weekly games that are a part of Spinfinity are generally divided into two categories: it can be anything from action and adventure to classic slots and lifestyle-themed games. Regardless of whichever theme you may be into; be it heart-pounding action that will keep you on the edge of your seat, realistic sports-themed masterpieces, or slots that take you on an exotic adventure, EmuCasino has got you more than covered. Moreover, these have been meticulously organized to allow you to browse with maximum ease, so you get only nonstop action and no extraneous nonsense in between.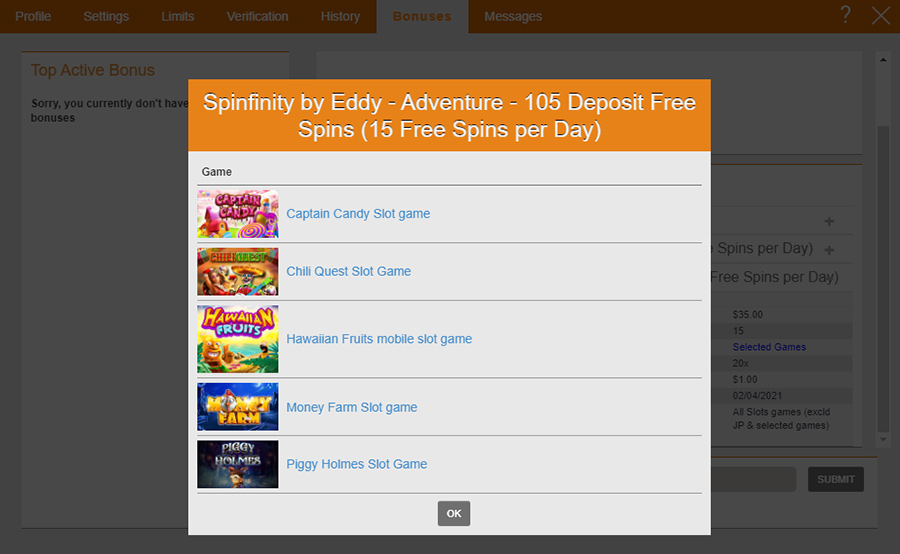 With new batches of titles introduced each week, you can rest assured that the level of intrigue will never falter. Just when you think you've seen it all, rest assured that you are likely to encounter even more marvelous slot games down the line. As slot gaming technology continues to evolve, Spinfinity by Eddy presents you with a great way to keep up to date on the latest and hottest additions.
How it works
To begin, simply log in and hit the 'Deposit' button
Next, click on 'Spinfinity by Eddy' when you input your funds.
Once you have finished depositing, your free spins should show up under your player profile.
To ensure that you're maximizing the number of free spins that you're getting, be sure to log in everyday for the next seven days and claim your spins.
This process is repeated each week as new batches of games are continually introduced, so stay tuned !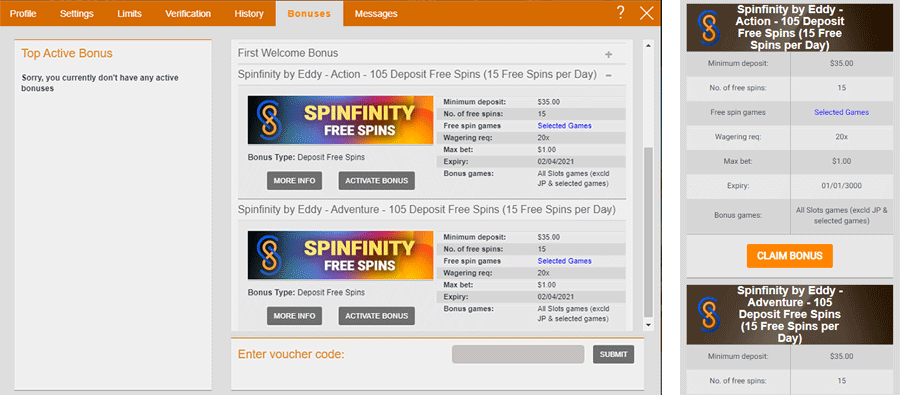 What's so great about Spinfinity by Eddy?
By simply making a single deposit, you will receive seven sets of free spins. Each week, you will get a fresh new assortment of games to play with; divided into two separate categories (they can be any). One great thing about Spinfinity by Eddy is that once you come across a game that really captures your heart, you can remember the game and likely be able to find it within the library later. In addition, Spinfinity also includes within it other promotional bonuses, so this feature is going all out in thrilling diehard gamers.
Another advantage of Spinfinity by Eddy is that many of the games that you will find here offer various types of special features. These can potentially magnify your winnings by spellbinding amounts. All it takes is one free spin with the right game and that next epic win is yours.
Finding gem-quality slot games can be a challenge if you try to find them by browsing on your own, as many underrated masterpieces slip by you. Thus, Spinfinity offers you a great way to keep up to date on the latest and greatest that the wildly innovative universe of slot games has to offer.
The time to get a taste of Spinfinity by Eddy is now
Considering how EmuCasino has made a name for itself as one of the best online casinos for New Zealand players to go crazy at, the introduction of Spinfinity by Eddy could not have come sooner! Finally, the hottest slot games that EmuCasino has to offer (and rest assured, there are many) will be showcased and made accessible to a wider audience of slot aficionados. If slot games are your forte, then you won't want to miss out on signing up for Spinfinity, because you never know just what fetching new games and rewards may await you.
Also, players who have been with EmuCasino for a long time know that EmuCasino always looks to expand its repertoire of gaming attractions. This is because EmuCasino remains steadfast in its vision to bring you the very best that the world of gaming has to offer. In 2021 and the coming years, you can bet that slot games will continue to evolve in terms of graphics, gameplay and innovation, and that EmuCasino will keep you up to date on the latest and greatest. Trust us that our feathery mastermind Eddy will be doubly thrilled that you have decided to partake in the excitement!