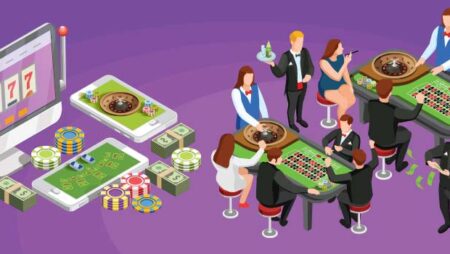 Roll the dice and place your bets because today we'll be answering a frequently asked question: offline or online casino? Whether you're a seasoned pro or a curious newbie, you have definitely asked yourself that question. Both options have their pros and cons so let's dive in and find the perfect one for you.
The Pros of Brick-and-Mortar Casinos
Brick-and-mortar casinos have an undeniable allure, and despite online casinos' rapid growth and rising popularity, offline casinos still offer several advantages.
Physical Presence and Atmosphere
The glamorous atmosphere that cannot be replicated is undoubtedly the most significant advantage of an offline casino. Playing live casino games with real dealers and chatting with them aas well as your co-players are the essence of an authentic casino experience.
The social aspect of the offline casino experience is further enhanced by its plethora of amenities which include restaurants, bars and entertainment venues so if you want an unmatched social and interactive environment, an offline casino is the best choice.
Established Reputation and Trust
Brick-and-mortar casinos, often operated by reputable corporations, offer players a sense of security and confidence that is rooted in their established reputation. This trust is particularly vital in high-stakes games where reliability is paramount. Backed by considerable expertise and financial stability, these brick-and-mortar establishments provide a secure gaming environment that instils peace of mind in their players.
Instant Winnings
At offline casinos, you can get your winning payouts instantly. This is often not the case with online casinos as their payout time depends on the processing periods of the different payment methods they accept. As such, you can sometimes expect to wait around 1-2 weeks to get your payout. From a bigger perspective, this isn't a significant inconvenience but it is certainly one aspect where brick-and-mortar casinos outperform online casinos.
The Cons of Brick-and-Mortar Casinos
Higher Betting Limits
Offline casinos require more money as their betting limit is higher than an online casino. In other words, a game session can cost a lot even if you're just getting started. In addition to that, waiting times at popular casinos tend to be longer. Unless there are a lot of tables or slot machines available, you might have to wait for a long time before you get your turn to play.
Game Pace and Accessibility
A major drawback is you cannot control a game's pace like you can when you are playing online. The latter offers handy features like repeat bet and re-spin. Additionally, if you stick to real casinos, you may never get a chance to play as there are a limited number of seats at tables and slot machines available.
The Pros of Playing at Online Casinos
Increased Accessibility
Convenience is one of the top reasons people play online. Web-based casinos allow you to play 24/7 and from the comfort of your home. Recently, there has been a rise in mobile casinos which make it even more convenient to play at any time and on the go.
Wider Selection of Games
Online casinos also offer a wider selection of games which include thousands of variations in blackjack, poker, roulette and more. An online casino might also allow you to play some games for free so that you can brush up your skills before you play for real money.
Broader Betting Limits
An online casino with a good reputation will also provide a wide range of betting limits. Whatever your betting skills and budget, you can customise your betting limits for an improved casino experience.
Higher Revenue Potential
The higher revenue potential of online casinos gives them a significant competitive advantage. Additionally, online casinos offer bonuses which could potentially lead to increased revenue and profitability. This higher revenue potential is a crucial factor in the continued growth and popularity of online casinos.
The Cons of Playing at Online Casinos
Security Threats
When it comes to disadvantages, cybersecurity remains a paramount concern within the realm of online casinos. The substantial volume of financial transactions that occur on these platforms makes them prime targets for cyberattacks. Moreover, the ever-present threat of fraud and money laundering carries the potential for severe financial and legal repercussions.
Consequently, players should make sure to take the necessary precautions to protect their online accounts. This includes using strong passwords, enabling two-factor authentication, avoiding suspicious websites and choosing casinos that offer advanced security features.
Dependence on Technology
Online casinos most often fail to create the exciting atmosphere that you would get in a brick-and-mortar casino. However, many good casinos are now trying to replicate the look and feel of a real casino by incorporating vivacious music and lights that will keep you engaged. On that note, you need uninterrupted internet connectivity to continue playing at an online casino. This naturally means that internet disruptions and other technical problems can interrupt your gaming experience.
Online or Offline Casinos: Which Is the Right Option for You?
Choosing between online and offline casinos ultimately boils down to personal preference and what you value most in your gaming experience. Online casinos offer convenience and accessibility, allowing you to play from the comfort of your own home or on the go. Additionally, they often come with a wider range of game selections and attractive bonuses and promotions.
On the other hand, brick-and-mortar casinos provide a unique atmosphere full of glamour and social interaction that can't be replicated online. The thrill of live games, the sensory experience and the opportunity to meet fellow gamblers face-to-face can be a major draw. What's more, some may find comfort in the established reputation and trustworthiness associated with well-known physical casinos.
Consider what aspects matter most to you – whether it's the convenience of online play or the tangible excitement of an offline casino – and let that guide your decision. Ultimately, both options offer their own set of thrills and advantages so it's all about finding the right fit for your individual preferences and priorities. Whichever option you go with, be sure to choose a reputable and trustworthy casino to ensure a safe and enjoyable gaming experience.